This website tells the tale of two men with the same name, Isaac Gandy, born into the Gandy family of cobblers in the village of Penketh in Lancashire, England, in the 19th. century. Isaac Gandy and his nephew Ike Gandy both crossed the Atlantic in search of fame and fortune, and died within six years of each other. There the similarities end, which the reader will find as their story unfolds.
Isaac Gandy. Born Penketh, Lancashire,
England in 1835. Died Gandy, Utah, USA
in 1904.
Read about Isaac Gandy here: Uncle Isaac in America
Ike Gandy. Born Penketh, Lancashire, England in 1857. Died Victoria, British Columbia, Canada in 1910.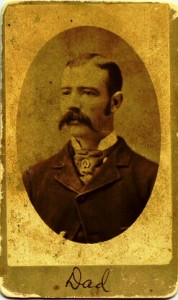 Photo courtesy  Gerry Moore
Read more about Ike Gandy here: The Two Lives of Ike Gandy
Update 2016/2017

The Gandy family history website has been updated and rebuilt on a new platform to replace the old site (www.gandy.st), including a new search function at the bottom of each page. Many links and attachments are still to be activated, which will hopefully be done  during 2017.

An update of the Gandy family tree is also in progress to include generations 16-18 and some corrections. The update has been made possible with the generous help of volunteers in England, Canada and USA, including Julieann Bruce, Ronnie Eastwood, Dan Tuson, Patsy Schlabsz, Bobbi Schlabsz McShane, Janet Jares, BIll Dearden and Janice Moote. Thanks for all your work!

Read the latest Gandy family tree here: Gandy Tree Update I 2017

Queries, information or comments are most welcome to egandyzero(AT)gmail.com. Replace (AT) with @.