Where did I get all this information about great grandfather Ike Gandy and family?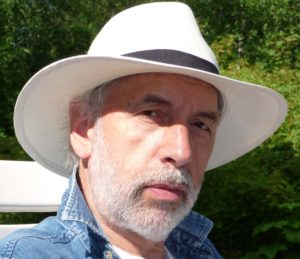 Acknowledgements
Researching family history is a collective effort of generosity which takes years and involves many different people and sources. The story of my great grandfather Isaac "Ike" Gandy told on these pages is no exception.
I just hope I haven't forgotten anyone along the way – in which case my sincerest apologies.
Unravelling the two lives of great grandfather Isaac "Ike" Gandy started on February 25th 2003 when I received an e-mail from old friend Margaret Wiese in Seattle, reporting her findings from the 1901 Victoria census. She wrote:"You'll see below what good old Isaac was up to in 1901! Criminy! Divorced in 1892 and remarried with a houseful of children."
From there just more and more contacts developed. Lionel Gandy was the first Gandy who responded to my probing letters. He put me on to Gerry Moore who in addition to his work "Gandy Connections" has provided a wealth of material, including photographs of Ross Bay. Gerry also helped me get in touch with Margaret Penny, who had access to the Gandy family bible and many photographs and documents, in particular about Leslie and Mary Gandy. Lionel followed up the family home and contacted the current residents Claire Miller and family. Lionel and Don King and also Claire took photographs of the house for the web site. Claire also connected me with Paul Hancock, who has generously devoted much time to wading through the archives to search for the many addresses of the Gandy family in Victoria. I learned a lot about Victorian architecture and the surrounding island from Paul too. Norm Dawson of gensearchers also did som good work at the newspaper archives, as did someone called Girl Friday!
Great help in hunting for Elizabeth Stevens/Gandy and her second husband Thomas Keeling has been provided by Chris and Maurice Hardman, Bill Harrison, Dot Palmer, Susan Gill, Ray Keeling and several members of the Staffordshire Genealogical  List.
Liz Greenwood of Alton Towers kindly provided the photograph of Pink Lodge, Alton.
I had little knowledge of Ike's brother Charles Gandy and descendants until I got help from Charles David Gandy, Chuck Gandy and May Dawson with their family tree. Val Reid has filled out the bare branches of the tree with a wealth of stories and much valuable information about Charles' and his descendants.
Rosalyn Fast and Don Gandy have been checking the Gandy family tree for inaccuracies and omissions and also providing family photos.
Doug Miller of the Old Cemeteries Society of Victoria has provided me with information about Ross Bay cemetery and a photograph of Ike's and Mary Cordelia's grave.
My old schoolmate Barry Appleton in Farnworth took the time to photograph the Gandy graves in Widnes Borough Cemetery.
Dan Tuson of PEI, Canada, recently contacted me and generously provided a wealth of information, documents and photos of Marguerite Gandy, her own family and other members of Ike's second family.
I am indebted to all of you for your great generosity.
Written sources
The online City of Victoria Archives and B.C. Archives are excellent and have been very useful for me as an Internet researcher. I have also often used the Times Colonist online archives to find information (a tip from Margaret Wiese). The BC genweb site has also been invaluable.
Footprints – Pioneer Families of the Metchosin District, Southern Vancouver Island 1851-1900 sent by Lionel Gandy contains fascinating background information about life on the island during the period when Isaac and Charles arrived.
Many interesting news articles can be found online at www.britishcolonist.ca, which covers the period from 1858 to 1910.
Family Trees and other Documents
There are still many gaps in my knowledge of the Gandy family, including the Gandy familoy tree. I hope these gaps will be filled and look forward to hearing from anyone who has information, corrections, objections or just  stories about the Gandy family as described on these pages. Don't hesitate to get in touch: egandyzero(at)gmail.com – replace (at) with @.
Eric Gandy
Latest Gandy family tree: Gandy Tree 2018