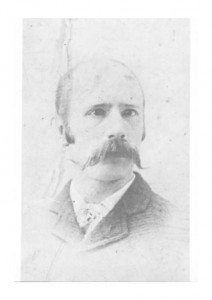 "Uncle Isaac in America" was the simple handwritten message on the back of this old and faded photograph of a young man with an impressive mustache, dressed in his best Sunday suit. I came across this photograph amongst my father's belongings, but have no details about when or where it was taken.
This photograph was the starting point for my research, the results of which I have collected on this web site. It was a fascinating mystery. Whose uncle was he? What was he doing in America? What became of him? I thought I was able to identify him as Isaac Gandy, younger brother of my great great grandfather William Gandy, but I have later discovered that it is in fact more likely that the photograph is his nephew Isaac "Ike" Gandy, my great grandfather, who moved from Widnes to Canada. Despite this, the photograph led me in the right direction.
On this web site I have tried to follow the footprints left behind by Isaac on his journey through life. From his birth in 1835 to his demise in 1904. The journey took him from the tiny hamlet of Penketh in Lancashire, England, to the place called Gandy in the outback of Utah – named after Isaac.
The story covers four distinct periods – his origins in England, on the trail in America, settling down in the Snake Valley and life in Utah after Isaac. I have also tried to give a picture of the many places where Isaac lived and the people he was associated with.