Charles "Chuck" Gandy
Isaac and Mary were married in January 1894 and Mary gave birth to their first son Charles in August the same year.  When Isaac died in 1910, Charles was 16 years old and already supporting the family. In 1912 he worked as a milkman for Royal Dairies and lived with Mary and the family at 2204 Mt. Tolmie Road. In 1917 we find him as a driver for the dairy, living at 2603 Douglas Road.
Charles married Catherine Ann Halliday in 1916, as reported in the local newspaper:
5 April 1916
GANDY-HALLIDAY – On April 5, 1916, by Rev. Owen, Charles Gandy, eldest son of Mrs M. C. Gandy, of Victoria, to Catherine Halliday, youngest daughter of Mr. and Mrs. Halliday of Largo, Scotland.
Victoria Times 11 April 1916
In 1918 Charles worked for Swift Co at 1010 Pembroke Street and in 1923 at the Royal Dairy, living at 2109 Vancouver Street. Then Charles and family moved around – living in 1924 at 641 Manchester Street, in 1925 at 1016 Balmoral, in 1926 at 429 Bellville.
On the death of his mother Mary Cordelia in 1939 he was living in Seattle, which he did for most of his life. Details of his address, employer etc. can be found on his Draft Registration Card below: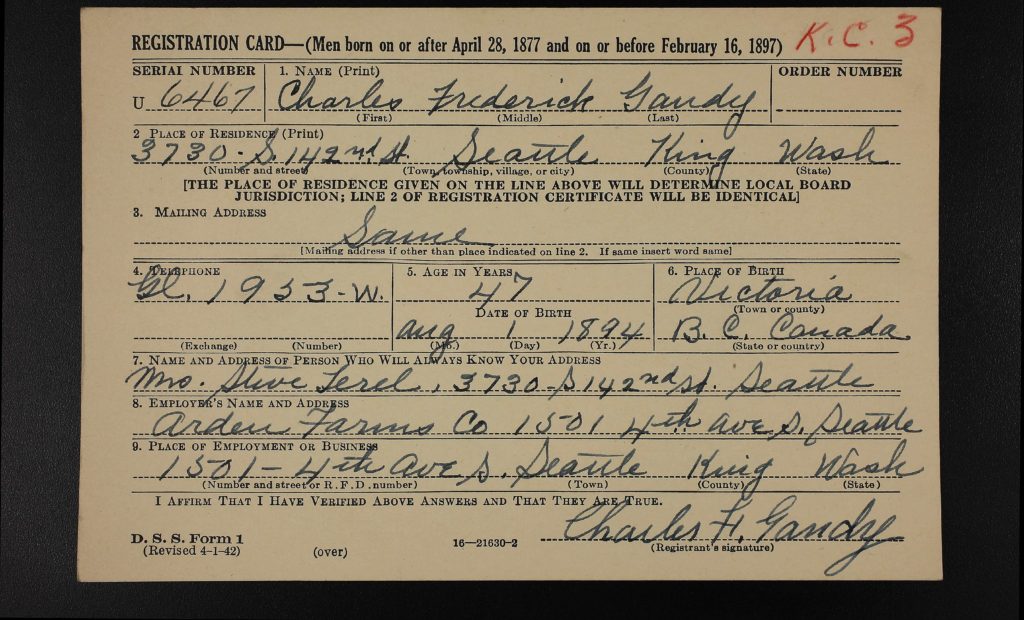 On his death in 1972 he was buried in a cemetery close to SeaTac, Seattle's main airport. I have no further information about Chuck's wife Catherine.
Children Tom and Catherine "Kay"
Chuck and Catherine had two children, Thomas Charles "Tom" born in 1919 and Catherine Ann "Kay" born in 1923.
According to the Gandy family tree Catherine Kay Gandy was married three times, seen below with her third husband Stewart Marshall.
Here a later picture with friend Gerry Moore:
She passed away in Prescott Valley, Arizona on March 23rd. 2010, 87 years old. The photograph and text below are taken from the memorial service held for her at the Carmichael Presbyterian Church.
"Catherine Ann "Kay" Marshall was born January 12th 1922 in Victoria BC to Charles F. Gandy and Catherine Ann (Halliday) Gandy, and was preceded in death by her brother Thomas Charles Gandy. She is survived by husband Stewart Marshall, sons Arnold Terll (Doreen) and Scott D. Rathburn (Sharon), grandchildren Todd Charles and Lance Thomas Terll, Nichole Susan, Kelly Adele and Jamie Ann Rathburn.
She became a naturalized US citizen August 8, 1938. As a young school girl, she became a talented singing and dancing child entertainer on stage and radio including Frank Coombs' "Uncle Frank's Children's Hour", vaudeville acts with Warner Bros. Theaters and The Bert Levey Circuit, as well as performing for patients at the Veterans Hospital in Seattle, WA.
She graduated from Cleveland High school in 1940. She was constantly employed in a variety of businesses: administrative work for the Hospital at Fort Lawton Washington, retail work in Yakima, WA, PG&E in San Rafael, CA, Johnston Controls in Denver, CO, The Officer's Club at Ramstein AFB, Germany, Puget Power & Light Co., Belleview, WA, State of CA in Sacramento, and Russell Stover Candy Co, Sacramento. After retirement, Catherine performed volunteer services in the Chaplain's Office of American River Hospital, Sacramento.
Kay finally resided in Prescott Valley, AZ, with her loving and devoted husband Stew (Stewart Marshall)."
I have found no information at all about Tom Gandy, except that he died before sister Kay.