Descendants of Charles and Sarah Jane in Widnes
Children Beatrice Minnie 1891-1951, Cordelia May 1897-1984, Charles Edward 1899-1959 and Harry 1902-1957 remained in Widnes, England, when Charles and son John William moved to Canada. I know little about Beatrice Minnie. What I know about Harry can be read on the page concerning his son Walter William. Read more here: http://www.gandyfamily.se/charles-gandy-descendants-in-canada/

Cordelia May  1897-1984
Daughter Cordelia May
Charles Edward Gandy 1899-1959
Son Charles Edward Gandy married Mary Elizabeth "Ciss"  Davies in 1922 and they had six children:
William Stanley (Bill) 1924 – 2009, Charles Francis 1925 -, Daisy 1926 – 2009, Alan 1928 – 2001, Edward 1935 -, Enid Sarah 1937 –
I know very little about them in addition to the information on the family tree with the exception of first born Bill and sister Daisy.
William Stanley "Bill" Gandy 1924-2009
Bill Gandy married Ellen "Nellie" Lloyd, born 1935, in 1955.
They had two daughters; Helen born 1957 and Nadine born in 1960.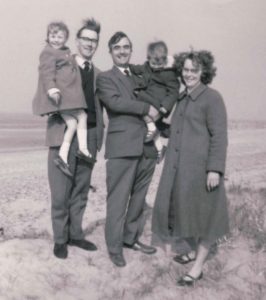 Ellen (Nellie) and William Stanley (Bill) Gandy are the third Gandy generation buried in the Gandy grave together with Bill's parents  Charles Edward and Mary Elizabeth and sister Cordelia May.
 The above information and photos of Bill and Nellie were provided by Carol Anne Hoch and her mother Dylis, Nellie's sister.
Daisy Gandy 1926-2009
Daisy married Ken Scott in 1949 at Luke's Church in Farnworth. Some  years ago I had contact with Ken Scott. They lived in Birchfield Road, Farnworth at the time, after he retired as a chemical engineer. Ken and his sister Joyce Tunstead in Dublin did an enormous and impressive job with the family trees for the Gandy family in Widnes and Cheshire.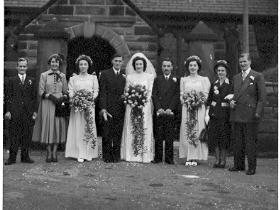 Daisy and Ken were married at St Luke's Church, Farnworth, Widnes in 1949
Daisy and Ken had four children: Glenn Harcourt born 1950, Elizabeth Ann born 1957, Hazel Jean born 1962 and Hilary Victoria Ruth born 1964. Ken died in 2003 and Daisy in 2009.