First Settlers in the Snake Valley
The first settlers in the area that would later become known as Garrison were youngsters. Daniel A. Gonder, the first permanent settler in Snake Valley, was only 19 when he arrived in 1861 and decided to settle on Snake Creek. Willard Burbank was only 17 when he settled in Burbank Meadows. They chose land near creeks that could be used for irrigation. Ike Gandy came to Snake Valley before he was 20 and George Samuel Robison arrived when he was only 13. It was only through sheer grit that these young men would carve out a living and become well-known family names in the valley.
Garrison,  located eight miles east of Baker, Nevada just across the Utah border, was named for Emma D. Garrison who was the first postmaster. The first post office was established December 2, 1886.
In 1922, Otto Meek (who was owner of the Baker Ranch at that time) convinced his friend who was a Hollywood film director to use Snake Valley as the set for a movie about pioneers crossing the plains. The flat benchland just south of Garrison was selected as the site for filming. Pruess Lake was to represent the North Platte River. Nearly everyone in the Valley was hired to work on the set. This was the first full-length movie ever made and it became a classic. It was called "The Covered Wagon" and it was filmed by Paramount Pictures.
Source: "Pioneers of Snake Valley" by Boyd E. Quate
Farming Communities
Bill Dearden, who lives with his wife Edith and family in Garrison, told me some years ago that there were twelve families still living in Garrison and others in nearby Burbank. These are still farming communities. Among the residents are familiar names such as Baker, Wheeler, Gonder, Rowley, Iversen, Davies, Dearden. These are descendants of pioneers in the Snake Valley, just like Bill and Edith Dearden.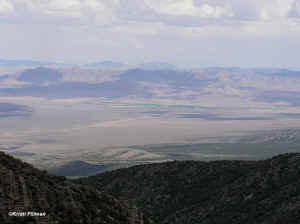 I have included these photographs to give some kind of indication of the type of landscape in the Snake Valley, the flat valley floor with the mountains in the background. This photograph was taken in 2004 and shows how dry and barren the land is. An earlier photograph however shows that there were more trees and grass in the cemetery and in the surrounding area, in particular the areas which were irrigated by the warm springs.