Earle Raymond Gandy
Earle  Raymond "Ray" Gandy was the first born of Duke and Florence Gandy. Ray married Frances Mary O'Neill, born 1923, in 1946 and they had eight children.
All above photographs courtesy of Bruce Gandy.
Frances Mary O'Neill Gandy surrounded by her eight children with Earle Raymond Gandy on her 80th birthday: Melanie b 1948, Lionel b 1949, Brian b 1951, Stephen b 1952, Jackie b 1953, Ronnie b 1955, Lori b 1958 and Bruce b 1962. Most of them still live in Victoria.
Earle and son Bruce are both well-known champion bagpipers in Canada. Read more about Bruce here.
Francis  Mary O'Neill Gandy April 22nd 1923 – January 4th 2018
Peacefully, in her home surrounded by her family, Frances left this world at the age of 94 in the same manner she lived in it – on her own terms. Christened Frances Mary, she was Frankie to her friends, a reflection of her characteristic frankness.
At an early age, Frankie discovered her life-long passions: reading, cooking, gardening. As a child, she often had her nose in a book, she mastered the kitchen appliances (no easy-bake oven for her!) to produce delicious rolled roasts and baked goods for her parents, and puttered in the garden nurturing the flowers she loved.
These passions defined her throughout her life. She read voraciously and loved to be carried away to exotic places and high adventures through stories. She read cookbooks from cover to cover to learn about the world through food (and cooked fabulous meals for her appreciative children too). She was the family resource for cooking tips and could always be depended on for the answer to any culinary query we presented to her. An accomplished and enthusiastic gardener, for many years she kept her neighbours on Lampson Street in thrall of her green thumb as she produced what some called a mini Butchart Gardens, truly a sight to behold.
Right to the end, she kept her mind alert and nimble with Crossword puzzles (rarely did she not finish one) and Jeopardy (she nearly always won).
Frankie is pre-deceased by: two husbands – Earl Raymond Gandy and Robert Dudley Tuthill; Daughter-in-law Diane Gandy; and Grandsons Colin Gandy and Don King. She is survived by her eight children: Melanie King (Robert), Lionel, Brian (Laura Jean), Steven, Jackie, Ronnie Eastwood (Stuart), Lori (Michael), Bruce (Beverley), seven grandchildren (Susan, Alex (Chantal), Fraser, Michael (Andrea), Lindsay (Alex), Matthew, Justin, and three great-grandchildren (Rylee, Linden, Connor).
Verna Marie Gandy
Verna Marie was born in 1925 and died the same year, an infant, as told in the obituary notices below:
"5 May 1925 GANDY
There passed away at the family residence on Tuesday evening, Verna Marie, beloved daughter of Mr. and Mrs. I. N. Gandy of 1442 Camosun Street. The funeral will take place from McCall Bros' Funeral Chapel on Thursday afternoon at 2 o'clock. Rev. W. P. Freeman will conduct the service, after which the remains will be laid to rest at Royal Oak Burial Park."
Victoria Times 6 May 1925
"The funeral of Verna Marie, infant d/o M/M I N Gandy of 1442 Camosun Street, took place on Thursday afternoon from McCall Bros' Funeral Chapel, when a large number of friends attended the service. Beautiful floral tributes showed the sympathy of friends for M/M Gandy in the loss of their little daughter. Rev. W. P. Freeman conducted the service, during which the hymn, "Safe in the Arms of Jesus" was sung. "There's a Friend for Little Children" was sung as a solo. The remains were laid to rest in the Royal Oak Burial Park. Messrs G. Gandy and Harold Mayar were the bearers."
Victoria Times 8 May 1925
Douglas Arnold Gandy
Douglas Arnold was born in 1927 and died in 1941 only 14 years old, when the family lived at 1338 Grant St.
According to the death certificate, cause of death was "Suicide – Gun Shot Wound". An inquiry was held into his death, but I have found no further documentation.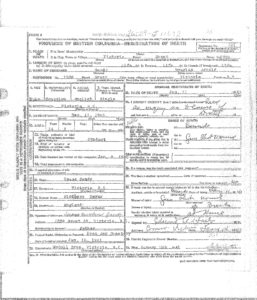 Douglas Arnold is buried in the family grave together with his grandparents Isaac and Mary Cordelia at Ross Bay Cemetery. See photo of grave here.
Leslie Gandy
Lesley was the youngest child of Isaac and Florence, date of birth 21 May 1929.
Leslie married Mary Elisabeth Willis (Margaret Penny's mother) in December 30th 1978.
They moved to California, obtaining US citizenship. He died there suddenly on June 3rd 1998 while out walking the dog, age 69 years. Read more about the circumstances of Les' death here:
Mary died in 2003 age 75 years.
Leslie and Mary are buried in Royal Oak Burial Park. The gravestone is a copy of that of his parents, Duke and Florence Gandy.