Emma Jean and James Henry Robison
Isaac and Harriet's second daughter Emma Jean married James Henry Robison in 1880. They had five children:
Isaac Peter (Ike), born 1881, named after grandfather Isaac Peter Gandy. He married Louisa Sorensen in 1901.
Hattie, born 1883, named after grandmother Harriet, died 3 years old in about 1886.
Maud Estella, born 1885, named after Emma Jean's sisters Maudie and Stella. She married Milton Howard Cameron in 1906.
Vida Pearl, born 1887, married Daniel Howard Simonson in 1904 (the year grandfather Isaac Gandy passed away). They lived in Milford, Beaver, Utah and had four children between 1906 and 1920. Daniel Howard died in 1930. Vida remarried – Alfred Robison from Silver Creek, White Pine, Nevada in 1937. She died in 1950. See below.
James Stanley, born 1890, who married Sophia Wilhemina Harder in 1910.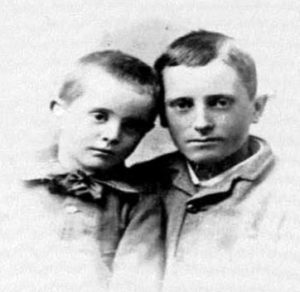 The source of the above information is Stephen Robison, Utah. In the 1920 census for Utah I found Emma Jean and James (Jim) Robison and their four surviving children with families. Read the details here.
The Robison family appeared often in the local newspapers
GARRISON
Mr. and Mrs. Isaac Robison of Gandy, Utah, are rejoicing over the arrival of a big baby girl. Mother and child are doing fine."
Millard County Progress 1918-04-26
(This is Emma Jean's and James Henry's son Isaac Peter and the birth of his third child, Iola Robison, with Louisa Sorensen.).
ISAAC ROBISON OF GANDY DIES SUDDENLY
Isaac Robison of Gandy died suddenly last week from what was thought to be apoplexy. He was working in the garden when he was overcome with dizziness. He was brought to the house and asked for a drink of water, but before the water could be brought he had passed into a coma and died very quickly.
Isaac Robison had been a resident of Snake Valley practically all of his life, where he owned property and his activities extended to Delta and Fillmore. He is survived by his widow, his parents Mr and Mrs Jas H Robison and two daughters, Mrs Verdell Singleton and a young daughter of about twelve to thirteen. He had a son who died in Kansas City while there to study electrical engineering.
Funeral services were held in Garrison Monday May 29. The speakers were Mr George Smith of Garrison and My Elmer Hinckley of Ely Nevada.
Mr Robison was very well known throughout Millard County and was liked by all. His personality was engaging and friends once won were kept for a life time. Sympathy of all Delta friends of Mr Robison is extended to the sorrowing family.
Millard County Chronicle 1933-06-01
DELTA
Isaac P. Robison, one of the well-to-do farmers of Snake Valley, died suddenly last Friday of a heart attack at his home on the Simonson ranch. Mr. Robison was 51 years of age and was the son of Mr. and Mrs. James H. Robison of Gandy. He was a good man and a good citizen and his death is a distinct loss to the community. He was in Delta the day before his death and looked to be in good health and the news of his death came as a shock to his many friends here. The funeral service was held from the school auditorium at Baker Monday, Geo. Smith of Baker officiating, assisted by Elmer Hinckley of Ely. The funeral was attended by a large concourse of friends from Millard County and from Nevada. The interment was in the cemetery at Garrison.
Millard County Progress 1933-06-02
After Isaac died in 1933 while tending the garden at the Hendrie Creek Ranch, Emma Jean and James Peter moved to Fillmore, Utah.
Youngest son Stanley died in an unfortunate accident two years after Emma Jean:
STANLEY ROBISON
Stanley Robison, former resident of Delta, died following the accident in which the truck he was driving ran into a train.
He was born at Silver Creek Nevada in 1890 and as a youth moved to Gandy, where he farmed  – later selling and moving to Ely. He is survived by his widow and four daughters: Mrs Vera (Veva) Dekker of Delta, Mrs Nina Weber of Baggs Wyo, Mrs Arlene Falkenburg of Ely, Mrs Jessie Kelley of Ely and one son, DeMar Robison of Ely, a sister Mrs Vida Simonson and several grandchildren.
Funeral services were held in Ely.
Millard County Chronicle 1939-05-25
The Simonson Ranch
Daughter Vida Pearl married Daniel Howard "Buzz" Simonson,  a member of the family who owned the Simonson Ranch in Snake Valley. The photograph below is taken in Gandy about 1918.
Left- right: Daniel Howard "Buzz" Simonson born 1884, Veva Emma Robison 1911, Stella Bernice Simonson (holding Jessie Elaine Robison 1917), Nina Amy Robison 1913, Vera Emma Simonson 1912, Vida Pearl Robison Simonson 1887, Sophie Wilhelmina Harder Robison 1891, Neva Arlene Robison 1914 (in front of Sophie), James Stanley Robison 1890.
Note the characteristic Gandy poplars from Italy in the backgeound, planted by Austin Rhoades.