Other Members of the Gandy Family who Crossed the Atlantic
Isaac Gandy was not the only member of the Gandy family of Penketh and Widnes to seek his fortune on the other side of the Atlantic in the 19th century. His two nephews, brothers Isaac "Ike" and Charles Gandy, emigrated to British Columbia and niece Martha Gandy married and settled down in California. There is some evidence that they did have some contact with each other – and with family members left behind in England.
Read more here about Ike and Charles Gandy here:
Martha Gandy Newland
According to family lore, Isaac Gandy's older brother Peter Gandy often travelled to America on business – selling boots and shoes. On one such occasion (in 1885) he took his daughter Martha (born 1870) with him. She was then 15 years old and she decided to stay in California. Martha was Isaac's niece and also the cousin of Ike and Charles Gandy in Canada.
Martha (age 19 yrs) got engaged to Edward A. Newland, born abt. 1863 in California,  announced as follows in the Daily Alta California newspaper on 17 March 1889:
"The Social World
Announcement has been made of the engagement of E. A. Newland of Oakland and Miss Martha Gandy, youngest daughter of Mr. and Mrs. Peter Gandy of Widnes, England. The marriage will take place on Thursday, the 11th prox."
Martha and Edward married on the 11th of April 1889  and lived in Lake Shore Avenue by Lake Merrill in Oakland California. Edward's father was born in England, his mother in Canada. Martha Newland was naturalized in the United States in 1893
Martha's husband Edward worked as head brake man on the Southern Pacific Railroad and was interviewed at an inquest into a train accident in :
"Edward A. Newland, the head brake man on the train, was in the smoker when the accident occurred. He braced himself when he felt the car bumping, but when it pitched over on end he fell out through the door onto the platform. He made his way to Conductor Wells and then went to Sacramento, a distance of six miles in forty-seven minutes. A special train with physicians was immediately sent out."
Sacramento Daily Union, 21 September 1891.
Read more about the accident here.
Descendants of Martha and Edward Newland
Martha and Edward had  three sons: Guy , Atherton  and Edward. The Newland family all lived in Alameda County in California. See map below.
Guy E. Newland(1890-1946)
Guy was born on April 14th 1890 in Alameda. In June 1912 at the age of 22 yrs he married Alice Dwyer age 20 yrs of California (1892-1969).  Alice was born in California but her parents came from Ireland. Guy worked for an oil company.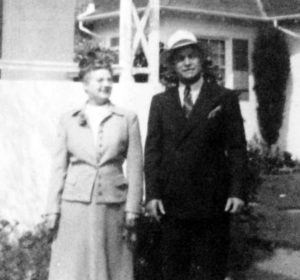 Their son Guy Dwyer Newland was born in 1916, with his mother's maiden name as his middle name. In 1940 Guy, Alice and son Guy Dwyer were living in Councilmanic district 4, Oakland, Brooklyn, Alameda. During WWII Guy Dwyer Newland was a first lieutenant in the US Army. He died on active duty in 1942, age 26 years old. Father Guy died in 1946, Alice in 1969.
Atherton A. Newland (1897-1964) 
Atherton was born on November 17th in Oakland, Alameda County. Atherton was an aviation mechanic and also served in WWII as a Chief Machinist in the US Navy. Atherton married Beatrice L. Erickson, born 1910 in Michigan, on May 4th 1925. She died in 1931, after  six years marriage.
On September the 9th 1931 Atherton then married Marjorie Wells, born 1906 in California. They had a son, Atherton Alan Newland Jr, born in 1926. 1940 Atherton, Marjorie and Atherton Jr were living in Tract AC-18, San Leandro, Eden, Alameda. Atherton died in 1964. Atherton Alan Jr was buried January 18th 1994 in the family grave see below). Marjorie Newland  died on June 11th 1968 in San Leandro, whereabouts of grave unknown.
Edward C. Newland (1900-1954)
Edward was born in April 1900 in Alameda. In 1920 he was registered as single, living with parents Martha and Edward A in Oakland, Alameda age 19 yrs. Edward's occupation is given as general mechanic. In 1930, after Martha's death, Edward (now using middle name Cecil) lived with his father Edward A , wife Carmenella and brother Atherton in San Leandro, Alameda. Edward married Carmenella, maiden name unknown, born abt 1905 in Minnesota. Her parents were born in Italy. She died in 1934 and is resting in the Gandy family grave. Edward, under middle name Cecil, is also recorded as being buried there in 1954. No children have been found.
Guy Dwyer Newland and Atherton A Newland Sr are both buried in the Golden Gate National Cemetery for veterans, shown in the photo below, which is located in San Bruno, San Mateo County, Ca. Guy died in 1942 and Atherton in 1964.
The Gandy/Newland family grave is situated in Mountain View Cemetery, Oakland, California.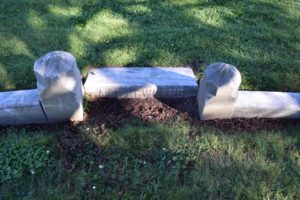 According to cemetery records, the following are interred in the Newland family grave:
Martha Gandy Newland – 27 September 1924
Edward Andrew Newland – 9 June 1931 (Martha's husband)
Guy Newland – 24 December 1946 (eldest son of Martha and Edward)
Alice Newland – 13 October 1969 ( Guy's wife, placed next to him)
Cecil R Newland – 24 December 1954 (this is Edward C, youngest son of Martha and Edward)
Carmella Newland –  2 July 1934 (Cecil's wife)
Atherton Alan Newland Jr – 18 January  1994. (Martha and Edward's grandson, born March 10th 1926, son of Marjorie and Atherton A Newland.)
Also two persons I have not been able to place: Paige Newland, buried 13 May 1924 and Beatrice Newland, buried 19 July 1927 (possibly children).
A memorial for Martha Gandy Newland can be found here: https://www.findagrave.com/cgi-bin/fg.cgi?page=gr&GRid=176588835
Read more about Martha Gandy Newland and her family here.
North America Connections
There are two connections between Martha and Canada. Husband Edward Newland's mother was born there, and Ike Gandy in Victoria christened his third son Isaac Newland Gandy.
Martha's second son was christened Atherton A Newland – Atherton was the maiden name of Martha's mother, Peter Gandy's wife.
According to family lore, Guy E Newland made several trips to visit the Gandy family in Widnes, England. Martha was the tenth of eleven children, so Guy had a few uncles and aunts. On one such occasion he took pictures of the 1906 San Francisco Quake with him to show them.